Boost for Klang Valley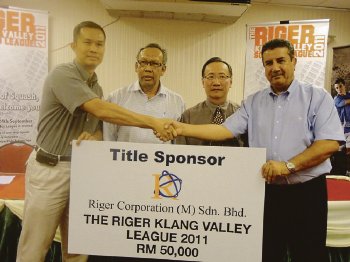 SRAM deputy president and organising chairman Huang Ying How (left) receives a mock cheque from Riger Corporation (M) Sdn Bhd managing director K. S. Khalaf (right) as SRAM president Datuk Syed Mustaffa Syed Ali (second from left) and Lake View Club manager Raymond Lau look on.
PETALING JAYA:
Squash enthusiasts in the Klang Valley have a new competitive league to hone and pit their skills with the launch of the inaugural Riger Klang Valley Squash League starting next month.
The league, organised by the Squash Racquets Association of Malaysia (SRAM), aims to elevate the social squash scene and to promote the sport by bringing together squash enthusiasts from various clubs within the Klang Valley.

The Riger Klang Valley Squash League invites social squash players to form teams of a maximum of five players with the compulsory participation of a veteran above 50 years of age, a woman player and a third participant aged 35 and above.
"While the main objective is fun in a competitive environment, the fielding of a team requires both strategy and endurance," said SRAM president Datuk Syed Mustaffa Syed Ali at a news conference to announce the league in Subang Jaya on Tuesday.

Syed Mustaffa said SRAM's initiative was driven by requests from scores of squash players who wanted to compete in a league which catered to the diverse skills and capabilities of players moderated by age and gender.

"We know of many players above 35 and 50 who still enjoy the opportunity to pit their skills amongst similarly aged opponents and we hope that the Riger League will provide a sustainable platform as well as satiate their appetite for regular competition," he added.
Syed Mustaffa hailed Riger Corporation's sponsorship of the league in promoting the game to a wider spectrum of players.

"We intend to widen interest and participation in the game and are hopeful that competition such as the Riger League will attract a large group of supporters and sponsors of the sport whom were previously confined to casual or just social squash," he added.

The Riger Klang Valley Squash League is open to a maximum of 24 teams and will be played over six weeks commencing Sept 24 at the Lakeview Sports Centre in Subang Jaya and concludes in November.